Welcome to WordPress. This is your first post. Edit or delete it, then start writing!
Thanks to COVID, I now have more time than ever to devote to mindlessly scrolling through Instagram. But that, like everything else in this season, has shifted with my priorities. I've narrowed down the scope of people I follow to those who use their voice to speak out about things they truly care about, like social injustice and racial inequality, affordable healthcare, mental health awareness, sustainability, mindful consumerism, climate change and immigration reform. Bloggers and influencers who tone-deafly threw up a black square on IG and went back to regularly-scheduled content were quickly unfollowed.
As the 2020 waves crash and break on our mental shorelines, I'm looking for legitimate connection on social platforms, including creators who are open to authentic engagement, and those who are shifting their buying habits to support Black, LGBTQIA+, and Indigenously-owned businesses, consciously identifying privilege and working to make the space more equitable for those who haven't had the same opportunities.
That said, I still love a good empties video. Hearing what products people loved and would repurchase, or loved and won't repurchase because of unethical brand practices, or hated and wished they wouldn't have bought, helps me evaluate my own buying choices and make better decisions moving forward. I hope to bring the same kind of transparency to the conversation.
Now, let's talk empties.
1. Farmacy Beauty – Green Clean Makeup Removing Cleansing Balm ($34 USD) – I'm way behind the pack on getting into cleansing balms, but after getting a 100-point sample of this from Sephora, I was hooked. Something about rubbing a balm onto my face and watching mascara, blush, foundation, sunscreen, eyeshadow and lip tint all wash smoothly away is so therapeutic to me. I'd been doing same-product double cleansing for a few months, but if you're new to double-cleansing and need a gateway drug, start here.
2. Krave Beauty – Great Barrier Relief ($28 USD) – I never, ever, ever want to be without this serum ever again. That's a lot of "evers," and I mean it. I've been breakout-prone since I was a teenager, but at the beginning of 2020, I was over-exfoliating, over-using actives and acids, and had seriously damaged my skin barrier. I needed to hit reset in a big way, and that's exactly what the Great Barrier Relief did – like a miracle in a bottle. I noticed immediate results, and that's not something I say lightly.

When my skin is super stressed, I cleanse, put this on, and go to bed. When my skin is in a good place, I incorporate it into my more expanded routine as a next-to-last step every other night or so. This may be my first "empties" post, but this is my third Great Barrier Relief bottle, and like I said – I never, ever want to be without it. Plus, I love the company's commitment to sustainability.
3. R+CO Spiritualized Dry Shampoo ($28 USD) – There are days when my hair is technically dirty, but manageable, and then there are days where I know I'm pushing the no-wash limit. Full disclosure, I wash my hair once a week (that's once every 7-ish days, not like a Monday/Friday situation), and the rest of the time I'm using dry shampoo to make it through. Seven days may sound like a lot, but I've spent a good chunk of time getting my hair to do what I want it to, so that even after working out every morning, I still push it to the 7-day mark every week (more on the how behind this sometime soon – I promise). But on mornings when I've sweat and my hair is on the questionable side, this R+CO spray is my saving grace. It's micellar water that sprays on wet (so it works perfectly with damp, sweaty, post-ride hair) and dries down to release powder that you can rub into your scalp. Hit it with a blow-dryer to really rub it in, and you're set. I've ordered a replacement for this, and it can't get here soon enough.
4. Drybar DETOX Dry Shampoo ($23 USD) – Oh, DETOX, my holy grail of dry shampoos. I've tried just about every aerosol dry shampoo on the market (no, really – test me), and I keep coming back to you, baby. Of course I've reordered, but I doubled down and got the new giant size from Sephora (7oz for $34, instead of 3.5oz for $23).
5. Glossier Stretch Concealer in G8 ($18 USD) – Before I get into this concealer, I would be remiss in acknowledging the problematic issues within Glossier. They receive funding from Thrive Capital (see more from 2014, here), owned by Josh Kushner (note that this doesn't mean they align with the politics of their owners, and Josh Kushner is known not to align with the politics of his brother, Jared, but it's become harder to separate the politics of a brand from the brand itself), and have recently faced criticism from former employees about toxic work experiences affecting Black, POC, and LGBTQIA+ team members (read Outta the Gloss's posts on Medium here, and Glossier's response, here). As far as Glossier's recent actions, they've created a $500,000 grant program for Black-owned beauty businesses, continue to evaluate sustainable options in their packaging, and have created their own voting campaign in advance of the 2020 election.
Personally, I'm evaluating how much I purchase from Glossier and continue to watch for how they're evolving to meet the current moment. Is it a brand you should purchase from? Do the pros outweigh the cons? That's on you (and me) to decide.
Product-wise, the Stretch Concealer is one of my favorite concealers, and I've struggled to find a dupe that I like as much or better. It's somehow light enough for the days when I just need a bit of color correction, and yet full-coverage enough for days when I'm experiencing breakouts or dark circles that look like they're a part of a Halloween costume. For now, I'm continuing to repurchase this item from Glossier, but if you've found a dupe for the Stretch Concealer that you love, let me know. I'd love to try it out.
6. Youth to the People Superfood Cleanser ($36 USD) – The 8oz size of this cleanser is enormous, and has lasted me an entire year, but I won't be repurchasing. My skin is on the drier side, and this felt very stripping to me, leaving me with skin that felt unbalanced and more reactive. This cleanser would be great for anyone who's oily and doesn't experience the dryness issues that I do, but for me, it's a one-and-done.
That's it for September! We'll see how many empties I'm able to run through in October, and in the meantime, I'll round up a few current product faves for early reviews.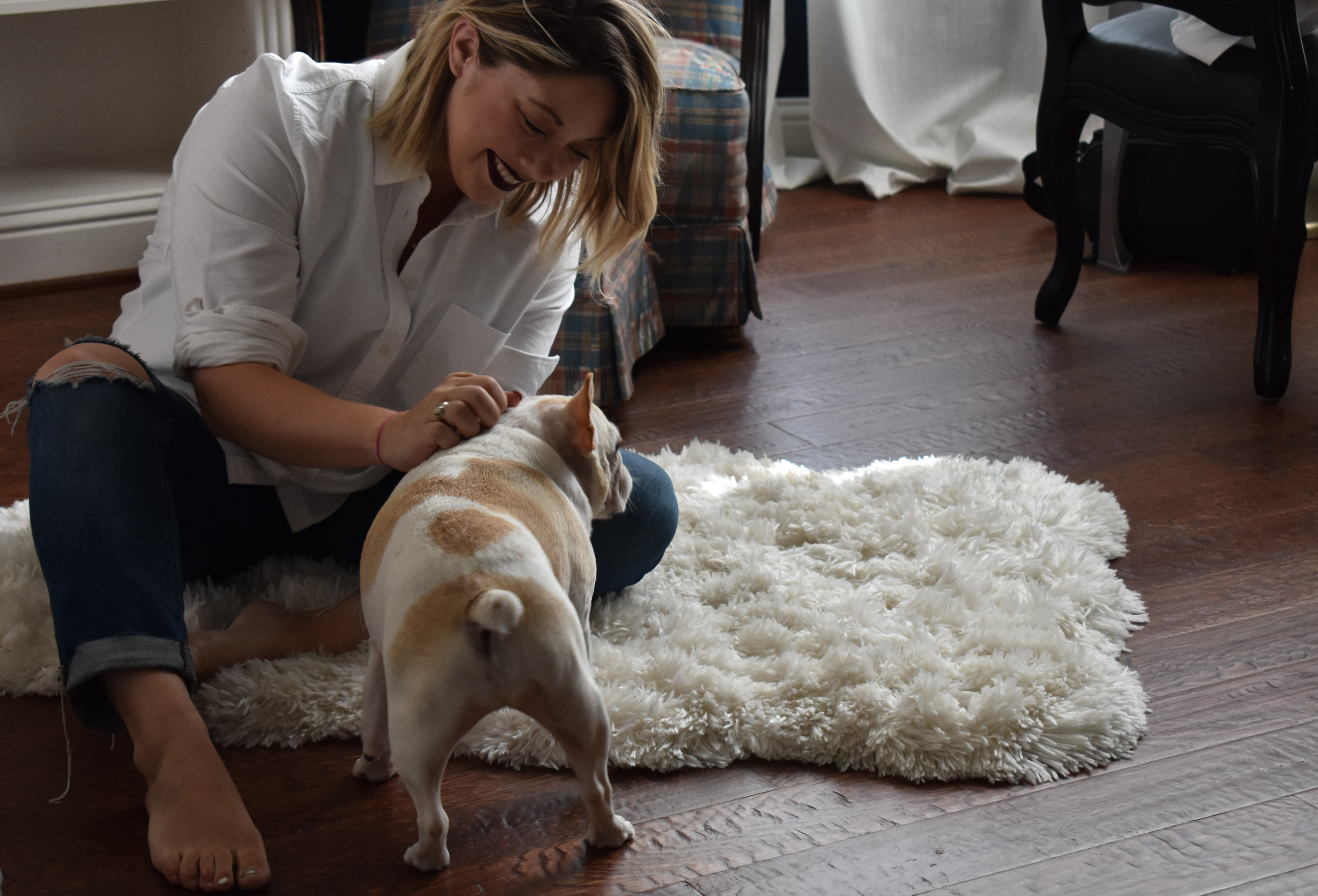 There's no two ways about it – cranking out the premiere post for a brand-new blog is a little intimidating. Search on Pinterest for "blog tips," and you'll be inundated with advice from every corner of the occasionally-helpful internet, anxious to tell you how their way is right, and what you thought you were going to do is 100% wrong.
Here's the thing.
I was an English Lit major in college, and I've been writing my entire life. The hardest part of writing isn't putting it all together, it isn't coming up with a convincing third paragraph, and it isn't figuring out a catchy byline. The hardest part of writing (and of doing anything, really) is getting started.
I learned a long time ago to just get it out, then edit. So maybe this blog doesn't look right now like it will in the future, and who cares? If you let it, self-doubt can be a real punk. It makes you wonder who would possibly care about what yet another blonde blogger has to say.  It makes you second-guess and delay taking up space and breath in the world. I let those thoughts delay the start of this project for a long time.
All self-doubt is really doing is trying to put your view of yourself underneath the covers of What Everyone Else Thinks and What Everyone Else Feels and the really big, soundproof, YOU ARE NOT ENOUGH blanket that doesn't let a single good idea escape. Well, we're done with that.
You (and I) deserve to take up space and breath in this world. We deserve to put good ideas out there (and sometimes not-so-good ideas) and try to get water from stones, because sometimes it works. We get to do the big things, the fun things, the hard things, the small things, the real things, and we get to put forth an effort for all these things unapologetically.
So if you were wondering what this space is, it's this. It's space. It's room. For all those ideas and things.
Welcome in.